Atlantis Preparatory School
Our Philosophy
The mission of the Atlantis Preparatory School is to develop each individual child to reach their greatest potential by providing a comprehensive, well-rounded curriculum and a strong foundation for success. We are committed to the development of the whole child so that each student can discover his own path to greatness.
Please call 732-528-5437 to schedule a tour.
Our Programs

Prep Toddlers - 18 Months by Oct 1

Starters - 2 Years by Oct 1 (1/2 day)

Starter Plus - 2.5 Years by Oct 1 (full day)

Jr. Learners - 3 Years by Oct 1

Preschool Plus - 3.5 Years by Oct 1

Jr. Kindergarten - 4 Years by Oct 1

Kindergarten Prep - 4.5 - 5 Years

The AP Difference

A COMPREHENSIVE CURRICULUM: Offering traditional subjects with a focus on the importance of foreign language, art & music, wellness, and non-traditional subjects
LEARNING IN THE AGE OF TECHNOLOGY: Utilizing Apple TVs and iPad as teaching tools to enhance the learning experience and bring lessons alive
BUILDING A STRONG FOUNDATION: Preparing children for future success, both academically and developmentally
DEVELOPING THE WHOLE CHILD: Providing support to students that is as unique as they are, while nurturing their natural abilities and talents
THE IMPORTANCE OF PLAY: Developing children's social and readiness skills, with an emphasis on the importance of unstructured play times & pretend play for childhood development
HIGHLY QUALIFIED EDUCATORS: Our caring and certified staff is encouraged to participate in continued trainings to ensure an ever-improving environment & curriculum
PARENT PARTNERSHIP: Parent participation and communication is our key to success
Atlantis Prep Information
SCHOOL OFFICE: 732.528.5437
FAX NUMBER: 732.223.1507

ADDRESS:
1904 Atlantic Avenue
Manasquan, NJ 08736
Academic Excellence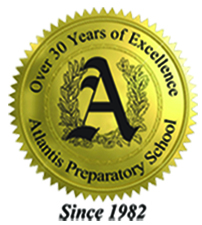 Atlantis Prep School Stories
Children are being pushed harder than ever from over scheduled playtime to early emphasis on getting into the best colleges – new pressures to achieve are enormous. The greatest gifts we can give our children include a strong sense of self, an enthusiasm for learning, the ability to think independently and the confidence to explore the world. I feel my son has been given this opportunity while attending classes at the Atlantis Preparatory School. Rather than trying to control and direct the children's learning, my son's teachers give them the opportunities to develop their natural artistic, dramatic, linguistic capacities and form bonds within their classmates and the natural world.
We have watched our son learn the alphabet, his numbers, how to spell his name, speak in Spanish, use a computer, make beautiful art projects, and converse on so many varied topics – often leaving us very impressed. We credit you for instilling this knowledge in him.
A thousand thanks for making our son's year as Atlantis Prep so special. You have truly enriched his world with so much knowledge. He has a thirst for learning, which you met and exceeded every day, and that is all I could ever ask for. We will miss you, and only hope that his teachers in the years to come are as caring and skillful as you are.
Thank you for your excellence in providing Jack with such an amazing early childhood education experience. We were so happy to have Jack attend Atlantis Prep this year. We appreciate the thoughtful and caring manner that you always exhibited toward Jack especially as he made his transition into Atlantis Prep. We are so thrilled with all of Jack's progress and all of the devotion that you gave to the midstream classroom. The curriculum was engaging, impressive, and developmentally appropriate — we also appreciate the special emphasis that Atlantis Prep placed upon creating and promoting civic-mindedness among the young children.
My children love music and you always make it so fun. Your hard work and dedication shines through everything you do. You are simply amazing.
As soon as I toured the school and met with the teachers, I realized why Atlantis Prep was so highly recommended to me when we moved to the area. My two children had a wonderful time as students, with caring teachers who encourage development in a warm and stimulating environment. Since leaving Atlantis Prep, both of my sons have adjusted beautifully in elementary school. I truly believe that the perfect mix of nurture and structure they received at Atlantis Prep has contributed to their success. Atlantis Prep provided my sons with a strong platform and for that, I will always be grateful.
Thank you for providing a safe, happy and challenging environment these past 10 years for our children. They have a foundation that will sustain them throughout their life and fond memories of their early childhood education. We are extremely grateful to everyone in contributing in their "raising" …it's not an easy task and we appreciate the assist.