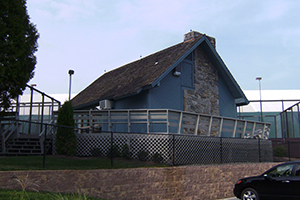 Outdoor Paddle is BACK beginning October 1st
Paddle is the only racquet sport played outdoors in cold weather thanks to enclosed, elevated courts and a heated playing surface that melts snow and ice. Platform tennis courts are roughly ¼ the size of a regulation outdoor tennis court, with lower nets, and have no doubles lanes. Paddle tennis is played with a solid paddle as opposed to a strung racquet and a depressurized tennis ball.
Sign up for Paddle & Club Membership or add Paddle to your current Atlantic Club Membership!
SIGN UP
---
MEMBERSHIP PRICING
Option 1: Current Members add $15/month to your TAC membership (Oct-March)
Option 2: For Non Members, we have:

3 month $445
6 month $890 (October-March)

All options include an Atlantic Club Membership and Paddle Membership.

---

BENEFITS OF PADDLE MEMBERSHIP!

Ability to reserve paddle courts- Guaranteed time!
4 courts available for booking 7 days a week
Full access to The Atlantic Club, all virtual and live instructor group exercise classes
Clinics will be offered by the Platform Tennis Coordinator upon request. Clinics will have instructor fee PAYABLE TO The Atlantic Club

Save $50 when you sign up for a 6 month Paddle Member by September 15th!

SIGN UP

*Available in Manasquan Only.

---

JENN BREDIN

Platform Tennis Coordinator, 2021-2022

Jenn has an excellent background with racquet sports and leagues. Her experience includes overseeing the Mantoloking Yacht Club Tennis Program during the summer months. Jenn is also an avid Platform Tennis player and has been a Member of our Atlantic Club Shore Conference Team over the years.

---

HOURS

Monday - Friday 8:30am-2:30pm and 5:00pm-8:00pm
Saturday and Sunday 9:00am-4:00pm

COURT RESERVATIONS

All reservations are made through The Atlantic Club App
Reservations may be made max. 49 hrs in advance of reservation start time
Each reservation is one (1) hour
Maximum of 2 reservations per day per person
Must be the same 4 participants on the court for full booking- no switching

SPECIAL EVENTS & TOURNAMENTS

Round Robins, In-House Leagues, and Tournaments will all be organized by our Platform Tennis Coordinator

CHECK-IN

All Paddle members must check in at the front desk
Obtain key for your court and must return when reservation is over
All 4 players must check in together

SPECTATORS, GATHERINGS & ALCOHOL

Gatherings are not allowed on The Atlantic Club property
Players will be required to depart the courts and Paddle area once your reservation is over and return key at the front desk in the Main Club
Alcohol is strictly prohibited (Violators will have their Paddle Membership revoked)

Members not complying with these mandated guidelines will have Paddle Privileges revoked.
---
Save $50 when you sign up for a 6 month Paddle Member by September 15th!
*Available in Manasquan Only.