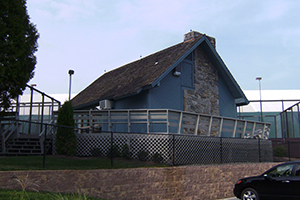 Our outdoor Paddle courts are located at The Atlantic Club in Manasquan. Court time is complimentary for Atlantic Club Members and open to the public for a fee.
Paddle tennis is similar to regular tennis, but is played outdoors from October through March. The Atlantic Club's heated and lighted paddle courts are the perfect way to get in the game and stay comfortable at the same time. We also offer paddle leagues for men and women and our Paddle Hut is a cozy place to relax and warm up by our fireplace before or after a match.
---
Paddle Fact:
Compared to tennis, the court is smaller and has no doubles lanes, and the net is lower. Paddle tennis is played with a solid paddle as opposed to a strung racquet and a depressurized tennis ball is used along with an underhand serve.
---

For more information on paddle tennis, call our Manasquan location (732) 223-2100.