Monthly Fall Assessments:

Falls are the leading cause of fatal and non-fatal injuries for older Americans. Falls are costly—in dollars and in quality of life. However, falling is not an inevitable part of aging. Through practical lifestyle adjustments and evidence-based programs the number of falls among seniors can be reduced substantially.

Are you at risk?

The Atlantic Club will host complimentary monthly Fall Risk Assessments the first Tuesday of every month from 1:00-2:00pm. Sign up each month at the Fitness Desk by the Monday before. Participate each month and track your progress!

Dates: Tuesday's 1-2PM

September 3 | October 1 | November 5 | December 3
COMPLIMENTARY SUPERVISED STRENGTH CIRCUITS
Monday's, Wednesday's and Friday's 12:00-2:00pm
** Prior to participation, please book a complimentary recharge appointment at the Fitness Desk. The trainer will review health history, goals and design a strength training workout card that will be utilized during the supervised circuit.
Weight bearing exercise and strength training are specifically helpful in preventing bone loss and improving body composition. Studies show that people who engage in an exercise program that places appropriate load have a greater bone mineral density than sedentary people.
---
LUNCH & LEARN SERIES

Each lunch and learn session will include a healthy lunch buffet reviewed by our Registered Dietitian and prepared by Chef Sal. All attendees will receive a complimentary Hydromassage session. 12:00 - 1:30PM

September 24 - THE CORE FUNDAMENTALS OF BALANCE!


Learn the CORE values of fall prevention by

understanding the basics of strengthening the

Core muscles.

Learn the CORE values of fall prevention by

understanding the basics of strengthening the

Core muscles.

Learn the CORE values of fall prevention by
understanding the basics of strengthening the
Core muscles.
Each participant will be given simple chair exercises to
perform at home to enhance balance.
Presented by Vanessa Asmar, Certified Personal Trainer

October 29 - STROKE EDUCATION


Know the symptoms, how to prevent, and how to move
forward.
The importance of proper nutrition and exercise
in pre and post rehab.
How to recover and return to a full life.
Presented by Encompass Health Team James Juliano, Physical Therapist and Therapy Manager and Megan Tkach, Physical Therapist and Stroke Program Champion.

November 26 - EAT WELL, FEEL WELL FOR THE HOLIDAYS


Great nutritional tips to help you make the right eating choices to avoid that holiday gain and hangover.
Thanksgiving lunch to be served
Presented by Robin Lynch, Registered Dietitian


December 10 - HOLIDAY MENTAL SURVIVAL WORKSHOP


Learn how to slow down and de-stress with strategies to
mentally survive the holiday season.
Presented by Nora Marler, MA in Mental Health Counseling (Columbia University). Meditation Specialist, (Columbia Spirituality, Mind and Body Institute)
---
BINGO

Bingo will be held on the following Wednesdays

in 2019 with a buffet style lunch. Great Prizes available

September 17th

October 22nd


November 19th

December 17th

---
---
---
WALKING TRAIL

Outside the main Club building, The Atlantic Club offers a beautiful 1 Mile walking trail around the Manasquan campus.

WALKING TRAIL

Join Pat Weir, Certified Personal Trainer, for an invigorating walking class. Learn how to work in the right heart rate zones for optimal results.

GREAT FOR ALL AGES AND FITNESS LEVELS.
---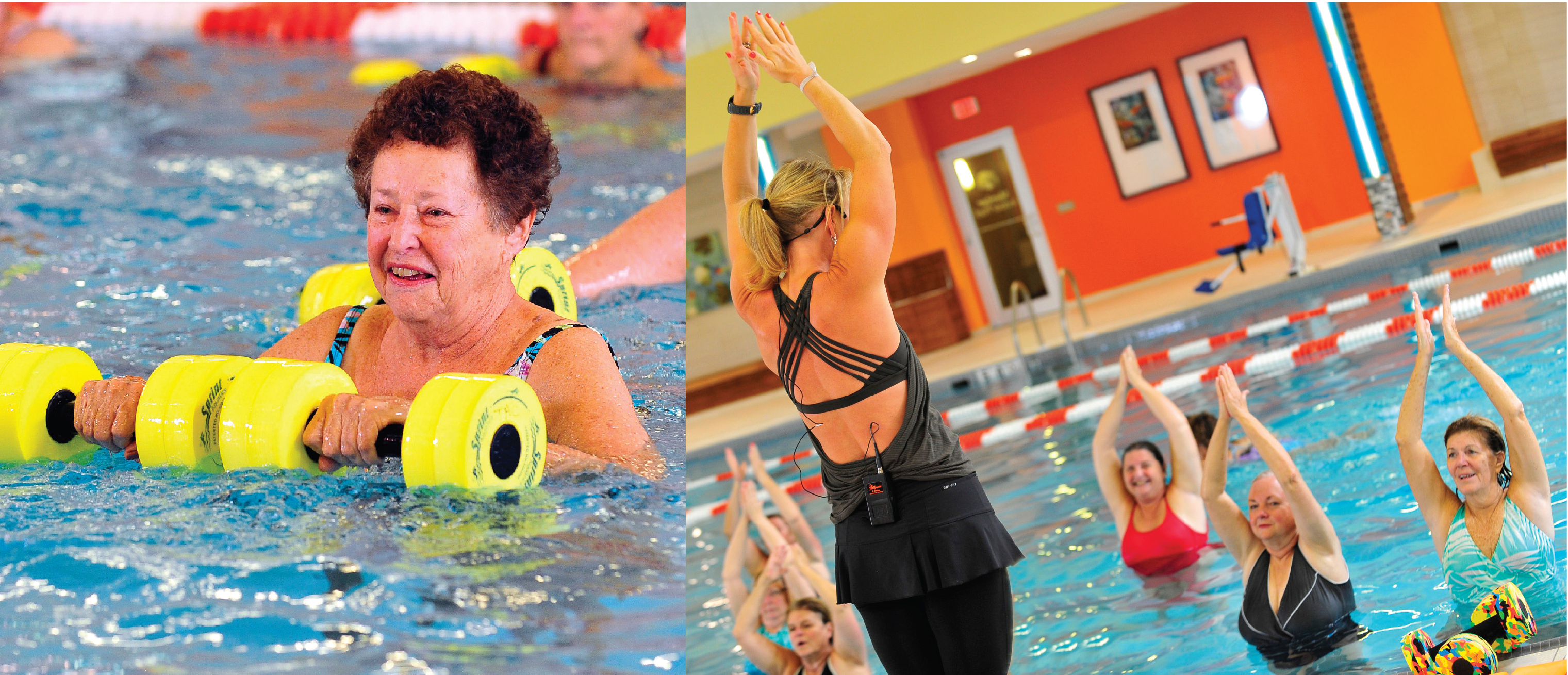 POOL AMENITIES
Beautiful, exquisite indoor pool offers an exclusive swimming experience with a 25-yard, six-lane saline resort-style pool.
Steam Room
A relaxing Jacuzzi
Lounging desk
Sauna
Luxury Locker Rooms with fresh towels for you to use after your shower
---
MIND BODY

The mind-body connection offers seniors the opportunity to use their thoughts to positively influence their body's experience, which can:

Increase healing ability
Reduce Stress
Improve Overall Health

The Atlantic Club offers 30 mind body classes a week including all level yoga classes, pilates mat, barre and aqua Tai Chi.
---

GROUP EXERCISE CLASSES THAT ARE GEARED TOWARDS OUR ACTIVE AGING MEMBERS
The well-rounded Group Exercise Schedule has over 140 classes that offer strength, cardiovascular, flexibility and mind/body training. Below are some of the exciting classes offered after the morning rush. A full Active Aging schedule can be picked up at the front desk or viewed online.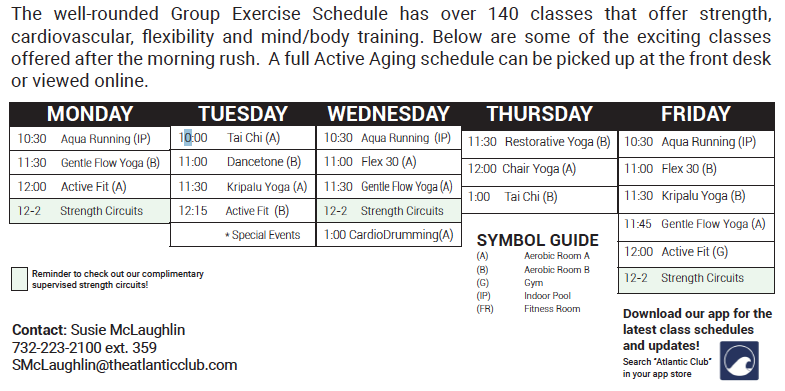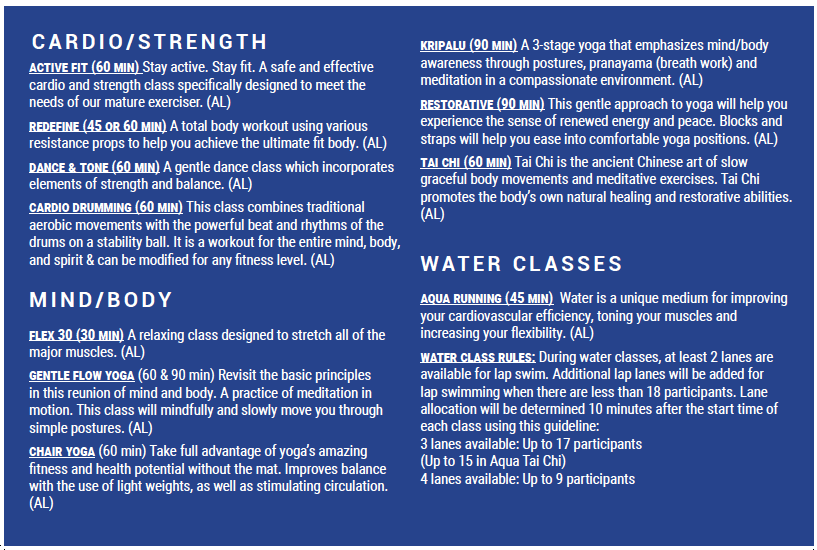 GROUP EXERCISE
Over 140 group exercise classes a week that begin as early as 5AM for our early risers to later in the evening classes for our night owls.
---
NUTRITION SERVICES
Proper nutrition and physical activity are keys to a healthy lifestyle. Let The Atlantic Club help you with both. Consulting with one of the club's Registered Dietitians can help you reach your nutrition goals.
---
PERSONAL TRAINING
See results! The extensive experience and education of our Personal Trainers combined with the latest technology in the fitness industry will deliver the results you want safely and effectively. Personal Training is convenient for those who need a flexible schedule. You will be matched with a trainer that best fits you!
---

BODYWORK
Body Work is flexibility training that integrates massage with stretching, allowing you to enjoy the activities they love with less discomfort. These improvements ultimately reduce the risk of injury. Let our certified Body Work trainer, Louisa Rodriguez, work on your flexibility in 30 or 60 minute sessions.
---
BENEFITS OF PILATES & YOGA
Pilates classes integrate strength training and mental discipline into your fitness routine. Improve your balance and stability while strengthening and stretching in reformer classes, apparatus classes, and mat classes.
---
RACQUETBALL
There are two indoor racquetball courts at the Manasquan location. Racquetball is available to play at no additional cost and equipment can be rented at the Front Desk. These courts can be booked right on the Atlantic Club App or at the Front Desk.
---

MILAGRO SALON & SPA
Milagro is a full service Salon & Spa providing our clients with a relaxing and unmatched experience. Our Spa team is made up of the best massage therapists and aestheticians in the area. We offer a relaxation room and luxurious locker room with showers & sauna, spa robes & slippers. Spend an hour or spend the day. You will emerge, refreshed, renewed and rejuvenated. Atlantic Club Members receive $20 off facial and massage services and Men's Hair Cuts are $25 every Wednesday.
---

TAC REWARDS
Sign up for TAC Rewards and earn points for things like checking in to the club, attending a personal training session, purchases at the cafe or shop, or even referring friends. Cash those points in for exclusive deals, local discounts, and in club services. Save on resorts, hotels and brand name merchandise!